Two centrals questions drive our research:
Pathway Elucidation: How do plants make complex natural products? Which genes and enzymes are required? What are the chemical mechanisms involved? How is the formation orchestrated across multiple types of cells and tissues?
Metabolic Engineering: How can we manipulate plant biosynthetic pathways in a targeted manner? How can we generate larger quantities of rare natural products? How can the product profile be changed? Can we generate analogues of natural products in biological systems, which are otherwise only accessible by total synthesis?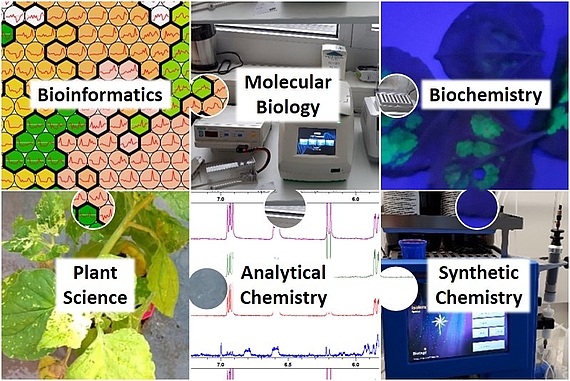 Pathway elucidation
We elucidate plant biosynthetic pathways to gain fundamental insights into the biochemistry of plants, to discover novel enzymes and enzyme mechanisms, and to improve access to medicinally valuable natural products. We use an interdisciplinary approach:
· Bioinformatics: We screen transcriptome and genome data to identify suitable gene candidates
· Molecular biology: We clone gene candidates into suitable vectors for expression in E. coli, yeast or plants
· Biochemistry: We use heterologously produced enzymes in enzyme assays to evaluate their biochemical activity and the underlying mechanisms
· Plant science: We use gene silencing to validate the role of gene candidates in plants
· Analytical chemistry: We employ analytical methods like GCMS, LCMS, and NMR, to monitor enzyme reactions and characterise intermediates
· Synthetic chemistry: Synthetic methods are used by us to produce missing intermediates, introduce isotope labels, or make fluorescent derivatives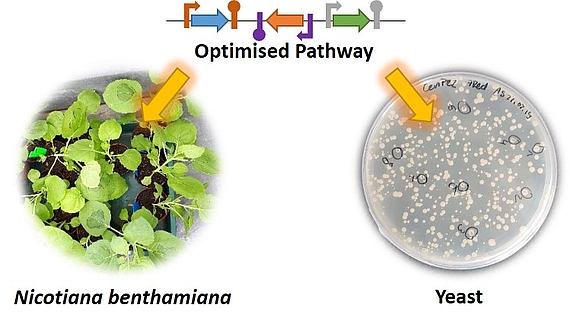 Metabolic Engineering
We use metabolic engineering to facilitate access to rare and structurally complex plant natural products with promising bioactivity for medicinal research. To achieve this, we co-express biosynthetic genes in yeast (Saccharomyces cerevisiae) and the wild tobacco plant Nicotiana benthamiana, to reconstruct complex biochemical pathways.
We are happy to host students for Bachelor/Master theses or lab courses who want to work at the intersection of natural product chemistry, biochemistry, molecular biology, and plant sciences. If you are interested, please send an e-mail to Jakob Franke.

At the moment we don't have any funded PhD or postdoc positions. If you have a fellowship or want to apply for one, please send an e-mail to Jakob Franke together with a CV.
Contact
Prof. Dr. rer. nat. Jakob Franke
Address
Herrenhäuser Straße 2
30419 Hannover
Prof. Dr. rer. nat. Jakob Franke